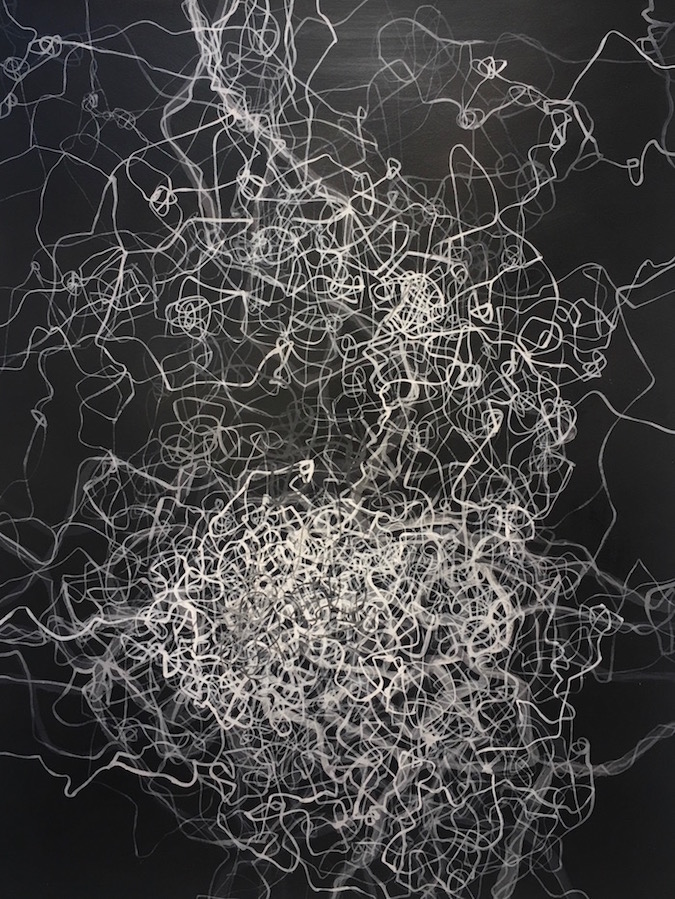 Quantum Entanglement 1 (pictured left) accepted into the 53rd Annual National Drawing and Small Sculpture Show at Del Mar College in
Corpus Christi, Texas
February 15 - May 3, 2019
Joseph A Cain Memorial Art Gallery
Dept. of Art & Drama, Del Mar College
3001 Ayers Street
Corpus Christi, TX 78404
Juror Carlton Bradford
The Annual National Drawing and Small Sculpture Show attracts works by contemporary artists across the country and is judged by a guest juror of national stature. Resulting Purchase Awards have built an impressive Permanent Collection at Del Mar College.

ABOUT THE JUROR
Carlton Bradford earned his Master of Fine Arts degree in sculpture from the University of Arizona in 1986. He returned to teaching sculpture at the UofA in 2002 and became an Associate Professor in 2011 in the 3D and Extended Media Division. He teaches undergraduate and graduate classes with a specialty in metal and wood fabrication. Before that he taught sculpture at the College of Marin, Kentfield, California from 1989-1995. During this time, he exhibited with the Stephen Wirtz Gallery in San Francisco. Carlton has exhibited his work over his forty-year career in many solo and group exhibitions. Earlier in his career he worked as an assistant to several professional sculptors in various media (all aspects of foundry work, carving and fabricating wood sculpture, and large-scale metal fabrication and installation).

2 drawings accepted into the 40th Annual Paper in Particular, a national juried show.
(Pictured Left: Epicenter 1, 2018 - 1 of 2 accepted)

February 25 - April 5, 2019
Columbia College Sidney Larson Gallery,
Columbia, Missouri

Paper In Particular is an annual, juried exhibition held by the Columbia College art galleries. The exhibition showcases the very best in art that incorporates paper as a primary element.
Juror Eric Lutz is associate curator of prints, drawings and photographs at the Saint Louis Art Museum. In 2017, he curated the St. Louis presentation of Thomas Struth: Nature and Politics. He recently co-curated A Decade of Collecting Prints, Drawings, and Photographs (2016) and Currents 110: Mariam Ghani (2015). Since joining the Museum in 2005, he has curated more than 30 exhibitions, including The Artist and the Modern Studio (2015), Scenic Wonder: An Early American Journey Down the Hudson River (2015) and Nicholas Nixon: 40 Years of The Brown Sisters (2014). He earned a doctorate in art history from the University of California, Santa Barbara, and he served as a visiting lecturer at the University of California, Irvine. He also worked at the Santa Barbara Museum of Art and the Huntington Library and Art Gallery.
Sept. 14 - Nov. 10, 2018
Mary Elizabeth Dee Shaw Gallery, Weber State University, Ogden, Utah

2018 Biennial Faculty Exhibition
An exhibition of latest work by nearly 30 artists currently teaching and working in the Department of Visual Art & Design at Weber State University.
weber.edu/shawgallery
Hours of operation:
Monday - Saturday 12noon - 5pm